Dorton Park Masterplan Community Workshop
Monday April 8 | McGill Baptist Church
<![if !vml]>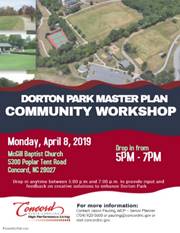 <![endif]>
The City of Concord is developing a Master Plan for Dorton Park that will guide a variety of future improvements to the 24-acre park. Potential improvements include renovating existing facilities, connecting trails to the future greenway, restoring and stabilizing the Afton Run Branch stream, and designating new or expanded features.
The public is invited to give feedback during the April 8 Community Workshop at McGill Baptist Church (5300 Poplar Tent Road. Drop in anytime between 5:00 p.m. and 7:00 p.m.
Can't make the meeting, or want to keep up with the process and receive updates? Visit publicinput.com/concord to provide your thoughts online and stay in touch with staff as the process moves forward.
For more information, please contact Jason T. Pauling, AICP – Senior Planner at 704-920-5641 or paulingj@concordnc.gov
---
<![if !vml]>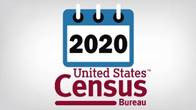 <![endif]>On our way to 2020 Census Day.
Once a decade, America comes together to count every resident in the United States, creating national awareness of the importance of the census and its valuable statistics. The decennial census was first taken in 1790, as mandated by the Constitution. It counts our population and households, providing the basis for reapportioning congressional seats, redistricting, and distributing more than $675 billion in federal funds annually to support states, counties and communities' vital programs — impacting housing, education, transportation, employment, health care and public policy.
It's hard to believe that 2020 is almost here, but as of April 1, 2019 we're just 1 year away from "Census Day" – April 1, 2020. In March 2020, the Census Bureau will mail invitations to respond to nearly every household in the country and activate the online response form. In 2020, all households will have the option to respond to the census online, over the phone and by mail. Responses to the 2020 Census are confidential and protected by law and can only be used to produce statistics.
The City of Concord is working with community partners in Cabarrus County to get the word out about the 2020 Census to ensure that we count everyone once and in the right location on April 1, 2020. Neighborhood organizations play a critical role in helping us achieve that goal by reminding members to complete their census form and knowing where to go for help or answers to questions. I will keep you all aware of any updated and share critical information regarding the Cabarrus County 2020 Census count over the next year.
Click here to read the Independent Tribune's article for additional information on Cabarrus County partner preparations.
Applying for Census jobs. Applications are being taken for a variety of jobs. Apply on-line at 2020census.gov/jobs or by calling 1-855-562-2020.
---
Homebuyer's Education Workshop
APRIL 13, 2019 | Concord Fire Station #8
Am I ready to buy a home? How much can I afford? What should I look for in a home? How do I find a lender? What do I need to know about working with a Realtor? How do I avoid common pitfalls in homebuying?
If you have questions like these, the Homebuyer's Education Workshops will help you learn what you need to know. The eight-hour workshop will be held at Concord Fire Station 8 (1485 Old Charlotte Road), on Saturday, April 13 from 8:00 a.m. until 4:45 p.m. Participants will receive information that will equip them with essential tools to successfully navigate the entire homebuying process with confidence. Prospective homebuyers will receive a Homebuyer Education Certification at the end of the workshop, which is necessary to meet the down payment assistance requirements for housing assistance programs or special lender homebuyer programs.
Buying a home is one of the most complex decisions you will make. Take steps today and register to attend this special workshop. This Homebuyer's Education Workshop, presented by Prosperity Unlimited, Inc. (a HUD-Approved Housing Counseling Agency) is being hosted in partnership by the City of Concord's Planning and Housing Departments.
The workshop costs $35 and all attendees must pre-register by Thursday, April 11. Reserve your seat by contacting Prosperity Unlimited, Inc. at 704-933-7405 or emailing lmack@prosperitycdc.org.
---
Grants & Fundraising Workshop
May 20, 2019 | 6:30 | Concord City Hall (35 Cabarrus Ave West)
When your community organization need money you have to make a decision about how you obtain that needed cash – do you raise dues? or do you find creative ways and apply for grants or fundraise<![if !vml]>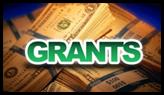 <![endif]>? There's no easy answer and most times it depends on the time available to commit to these options.
Join us on May 20 as we discuss the best ideas for how to fundraise for your neighborhood association and how to access up to $3,000 through the City of Concord's Neighborhood Matching Grant (NMG) program. The workshop will be held in City Hall located at 35 Cabarrus Ave West. RSVP required. Call (704) 920-5298 or email jzarc@concordnc.gov for more information.
Remember, it pays to plan ahead! It's never too early to start planning your neighborhood improvement projects.
---
Share the News:
Improved solid waste collection routes starting the week of May 6
---
** SAVE THE DATE **
2019 Spring Litter Sweep - April 13 – April 27
Every spring and fall, city co-workers together with recognized neighborhood organizations, collect litter along the city's roadsides. 2019 Spring Litter Sweep is scheduled for Saturday, April 13 through Saturday, April 27. Litter Sweep is a statewide roadside litter removal initiative. Neighborhoods can win a cash prize for collecting the most bags of litter. If your neighborhood would like to participate in this event, Sign up today – click here. For more info, contact Cherie Jzar (704) 920-5298.
City Nature Challenge - April 26 – April 29
Become a Citizen Scientist and join forces in a friendly competition with neighbors and citizens in the Charlotte Metro region to explore nature all around them and document the living things they find! The community that makes the most observations of nature, find the most species, and have the greatest number of participants wins the challenge. To learn more about the City Nature Challenge and iNaturalist in person, come out to the Bunny Run Festival (Saturday, April 20, 9-11 a.m. in Downtown Concord) and Flutter By Earth Day (Monday April 22, 3:30-5:30 p.m. at McGee Park). Learn more and see which other cities are participating by visiting citynaturechallenge.org.
Safe Disposal Event - Saturday April 27
The Spring 2019 Cabarrus-Concord Safe Disposal Event is Saturday April 27, 9-11 a.m., at CFA Village Parking Lot located at 280 Concord Parkway N. Two shred trucks will be onsite providing free secure document shredding and recycling for Cabarrus County residents. Please limit your documents to no more than three 13-gallon trash bags or bankers boxes. The event will also feature free, safe collection and disposal of electronic waste (such as televisions, computers, and other devices) and unused/expired prescription medications. For more information on the Spring 2019 Cabarrus-Concord Safe Disposal Event, call 704-920-3209.
---
April 2019 Neighborhood Meeting Calendar
Click the above header to view the neighborhood organization meeting calendar.

The calendar includes meeting dates, times and locations for neighborhood meetings, City Council Meetings, Planning and Zoning Commission Meetings and other city events. Please note that meetings date and times are subject to change without notice. This is a live calendar so changes are made immediately after they are reported. For a full schedule of all recognized organization meetings, visit the program's website concordnc.gov/neighborhoods.
---
Neighborhood News is published monthly and information from neighborhood associations and others are welcome.
Please share this newsletter by forwarding it to your neighbors - post an excerpt in your community's newsletter, post a copy on your community bulletin board, website, Facebook or Nextdoor page.