Neighborhood Leaders Virtual Meeting
Monday September 21 • 5:30 PM
Join us on Monday September 21 for an important conversation with neighborhood leaders from across the City. The meeting will be held virtually on Zoom from 5:30PM until 7:00 p.m.
Over the past several months, neighborhood organizations have witnessed the difficulties that residents are facing in the wake of the COVID-19 virus. Leaders have also witnessed the strength of our unity and the community's resiliency. As circumstances continue to change, neighborhood leaders continue to develop a response which complies with state mandates while doing their best to support the needs of residents in the community. Many have reported postponing in person meetings and events, closing common areas and amenities, increased digital communication with members and other changes which changes <![if !vml]>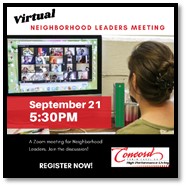 <![endif]>the social structures of our neighborhoods.
During the meeting neighborhood leaders will engage in discussions of how they've navigated this evolving situation and share plans for the road ahead. Community Outreach Coordinator, Cherie Jzar will share information about how to stay connected with City of Concord activities. We invite you to join this important conversation.
For more information: please call (704) 920.5298 or send an email to jzarc@concordnc.gov.
---
Attend the August 2020 City Council Meeting online.
<![if !vml]>

<![endif]>Interested in your #localgov? Attend this month's Concord City Council work session and public hearings at 4 p.m. on August 11 and regular session at 6 p.m. on August 13 online via Zoom. Please note public hearings will be held August 11 and general comments on August 13. Find the agenda and how to participate here: https://www.concordnc.gov/councilagenda
---
Census 2020
Help your community count!
<![if !vml]>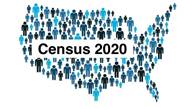 <![endif]>Across the country every community counts. In order to ensure that everyone is counted, we need the help of community partners like you to help encourage residents to respond to the 2020 Census today! Right now, our City's response rate is 64.5%. We want to increase that rate and we need your help. Share information on your social media channels, in your newsletter or in your email exchange about the census and why it's important to respond. Encourage members to mail in responses, go online or call to complete the 2020 Census.
Census results shape the future of communities, as census data informs how billions of dollars in federal funds are distributed for health clinics, school lunch programs, disaster recovery initiatives, and other critical programs and services for the next 10 years. For more information, visit 2020census.gov.
---
Neighborhood Matching Grant Program
~ Update ~
<![if !vml]>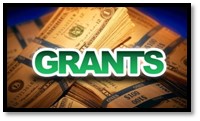 <![endif]>
On July 9, 2020 Concord City Council awarded $24,368.00 in Neighborhood Matching Grant funds to 9 neighborhoods. This left $5,632.00 left in the program budget. In an effort to exhaust all funds budgeted for this fiscal year, we made a 2nd call for applications. All eligible neighborhoods who were not funded during the 1st round had an opportunity to apply for the remaining grant funds. We set the application deadline for Monday July 27, 2020 and received 8 applications. The applications will be reviewed and a funding recommendation will be sent to City Council for consideration and possible award during the September Council meeting.
For more information on the City's Neighborhood Matching Grant Program, visit the program's website at concordnc.gov/neighborhoodgrants.
---
<![if !vml]>

<![endif]>Movie in a Box Program Update
Due to safety concerns resulting from the increase in COVID-19 positive cases, reservations for the Movies in a Box equipment will not be taken until September 4 and note that this date is subject to change.
The Neighborhood Movies in a Box Program is an engagement initiative designed to encourage recognized neighborhoods to host outdoor family friendly movie night events in an effort to foster connectiveness among
neighbors Visit concordnc.gov to learn more.
---
Cabarrus County unveils simplified payment service with 2020 tax bills
Municipal/County real estate and personal property tax bills mailed Friday July 31 to property owners listed on tax records as of Jan. 1, 2020. The County is asking residents to pay special attention to the area labeled "myCabCo" for details on a simplified, safe way to pay.
<![if !vml]>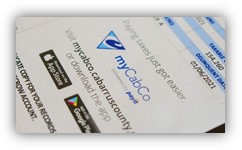 <![endif]>MyCabCo allows users to create a single, secure wallet that stores all their payment, profile and transaction information in one place. From there, users can set up alerts and keep track of their receipts. Payment takes just a few simple clicks. The app includes some key features which includes the ability to schedule partial payments, which can help users' budget over a longer period of time, and registration for future electronic billing. Download the free myCabCo app from the Apple and Android app stores. The service is also accessible through desktop and mobile-web devices at myCabCo.cabarruscounty.us.
Taxes are based on the January 2020 revaluation value of real properties, and property tax rates set by County and municipal officials in June. Bills are due September 1. If paid after January 5, 2021, property owners are subject to interest charges, collections and/or tax foreclosure. For questions or online payment assistance, call the Cabarrus County Tax Collector at 704-920-2119 or email taxinfo@cabarruscounty.us.
---
Golf Carts in Neighborhoods
If you are on Nextdoor.com you may have seen a message posted by Captain Deckster Barlowe about Golf Carts. I'm sending his message to you directly in hopes that you will share it on your communication outlets so that members of your association understand the law for our city. Golf carts are not authorized for use on any street within the City of Concord.
Golf Carts. Just a reminder to all City of Concord residents. North Carolina general statute (G.S. 160A-300.6) allows a city to enact ordinances to regulate the operation of golf carts on public streets. This is very common in many beach cities and towns in NC. However, the City of Concord does not have a local ordinance permitting the use of golf carts on local streets, except for city owned golf carts utilized for safety purposes at special events, such as the Christmas Parade. Therefore, operating a golf cart on any street within the City of Concord, including streets in our established neighborhoods, is prohibited.
---
Online Neighborhood Leadership Forum
If you currently serve as a board member of a recognized neighborhood organization or a leader in any neighborhood or homeowner's association in the City of Concord, please follow the link below to register and join the online discussion.
To access the forum, visit https://publicinput.com/3376
As you provide answers to questions and provide insight on topics, the forum will become a knowledge base of information to help inform the work of neighborhood leaders across the City.
---
Concord residents can get a free face covering from the City of Concord
The City of Concord is hosting an ongoing series of drive-thru face covering distribution events across the community. Staff will distribute one face covering per person present. Events will be planned over the coming weeks and months to distribute a total of 20,000 face-coverings. Visit concordnc.gov to get information on upcoming events.
On June 26, North Carolina entered a statewide executive order mandating the use of face coverings in public places. For more information on the requirements, visit nc.gov/covid19.
---
ADOPT A STREAM PROGRAM
Did you know you can volunteer to help keep Concord waterways clean?
Through the City's Adopt-A-Stream Program volunteers commit to removing litter in and around designated creeks and streams. Groups can choose the stream segment that they're interested in cleaning up and select the day they'd like to conduct the clean-up.
The Clean-A-Creek program provides volunteers the chance to conduct a one-time cleanup with no commitment.
To learn more about these programs, visit concordnc.gov/streams
---
Stay informed!
Sign up here to receive the biweekly CityLink Newsletter and stay informed.
---
Please share this newsletter by forwarding it to your neighbors - post an excerpt in your community's newsletter, post a copy on your community bulletin board, website, Facebook or Nextdoor page.