Neighborhood Leadership Council Meetings
SAVE THE DATES
Tuesday April 28 | Tuesday July 28 | Tuesday October 27
Neighborhood Leaders, make plans to attend the 2020 NLC meetings. These meetings are open to neighborhood leaders who have a passion for investing in their community and a willingness to share their heart, vision, priorities and best practices with other likeminded leaders. Open networking is encouraged before the meeting starts at 6:15PM where leaders enjoy refreshments. The meetings start at 6:30PM and will include open forum discussion topics where neighborhood leaders come together to share information and experiences. Attendees also receive a wealth of informative information from City staff, and community partners.
<![if !vml]>

<![endif]>Recognized neighborhoods are encouraged to designate a primary and an alternate representative to serve as its NLC representative - in most cases this is the chair or president, although any active member is welcomed to attend meetings. For more information email jzarc@concordnc.gov or call 704-920.5298.
---
Human Trafficking 101 Workshop
Tuesday March 24 | 6:30 p.m. | Concord City Hall (35 Cabarrus Ave West)
Attention <![if !vml]>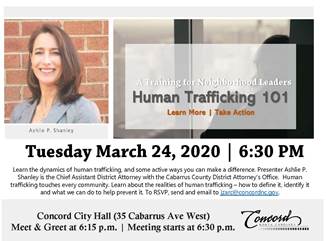 <![endif]>Neighborhood Leaders!
Join us on Tuesday March 24, 2020 at 6:30 p.m. for this important free workshop designed to educate participants about the nationwide issue which is impacting our community.
The workshop will be led by Ashlie P. Shanley, Chief Assistant District Attorney with the Cabarrus County District Attorney's Office. She will provide participants with valuable information about how it happens, why it happens, and debunk some myths. Human trafficking is an issue that touches every community, including cities, suburbs, and rural towns. Learn about the realities of human trafficking – how to define it, identify it and what we can do to help prevent it.
Click here to RSVP. For more information email jzarc@concordnc.gov or call 704-920.5298.
---
Good Neighbor Tip:
Yard Sales /Garage Sales
<![if !vml]>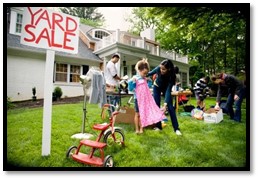 <![endif]>City code 42-30 to 42-38
Yard or Garage sales provide residents with a great opportunity to get rid of unwanted items, but did you know that the City of Concord Codes regulates this type of activity?
Residents can hold a yard sale on their property. However, sales are limited to no more than (3) sales within a year and the sale should not last for more than (2) consecutive days or more than 16 hours in a single week. Also, yard sale items are limited to personal property from your household which has been owned or previously used. For example, the sale of 25 bicycles on your front lawn obtain from any commercial business would not be a yard or garage sale. Yard sales that do not meet this definition are considered to be a commercial endeavor and a nuisance, creating an activity which is not conducive to a residential neighborhood.
When planning a yard sale, it is best to coordinate with neighbors. Doing so will ensure that neighbors are aware of the anticipated increase in non-resident traffic. Ensure that the sale does not spill out in areas within the public right-of-way like the sidewalk or street. Remember, a yard sale is selling of unwanted household or personal items such as tools, furniture, or clothing from your own property on an infrequent basis. Having one provides you with a GREAT way to declutter and earn a few extra bucks. However, a good neighbor understands that there's more to it than putting price tags on your old stuff and a sign out in your front yard.
Find out more about City of Concord Code Enforcement, visit concordnc.gov.
---
<![if !vml]>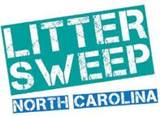 <![endif]>North Carolina Litter Sweep - April 11-25
Organize a team to participate in this roadside litter clean up.
Sadly, people throw garbage out their windows all the time. That's the ugly truth. I guess they think that someone someday will come along and pick it up…. or maybe they're not thinking! Litter is blight on the area and a threat to the environment and demonstrates no sense of pride. Litter is not just one person's concern; it is everyone's problem.
Neighborhood Leaders play an important role in helping to address this problem. Help us by encouraging your members to get out and collect litter during the next Litter sweep pickup. Simply work with your board to get the word out and to start organizing a team of volunteers from your neighborhood. Remember, cash awards are given to 1st, 2nd, and 3rd place winners of the neighborhood group that collects the most bags of litter. Keeping your community looking great can be dirty, yet rewarding work!
Neighborhood Groups should call 704.920.5298 or send email to jzarc@concordnc.gov to sign up or for more information.
NCDOT Biannual Roadside Litter Cleanup program.
---
Neighborhood Program Annual review
Forms due by March 13
To verify that your neighborhood organization continues to meet the Partnership for Stronger Neighborhoods program criteria, please complete the Annual Review Form. Forms must be completed by March 13, 2020.
Also if there were changes to your bylaws in 2019, please submit via email to jzarc@concordnc.gov the updated copy of your organizational bylaws.
Any recognized neighborhood organization failing to meet the program criteria may fall under "dormant status." Neighborhoods with a "dormant status" designation will be removed from the official recognized neighborhood listing and will not be eligible for Neighborhood Matching Grant funding until such time as they re-activate their status. A notice of the dormant status designation for inactive neighborhood groups will be emailed to the last provided list of elected officers.
CLICK HERE TO COMPLETE THE ANNUAL REVIEW FORM.
This is not required for neighborhoods who have been in the program for less than 1 year.
---
Be a 2020 Census Ambassador
Neighborhood Leaders play an important role in helping to ensure that Concord has the political power, financial resources and demographic information to shape the future of our community. Use your to spread the word that everyone counts! Here are three things that you can do now:
<![if !supportLists]>v <![endif]>Get educated. Visit the Census Bureau's webpage to learn how city's like Concord benefit from an accurate 2020 Census. Know what to expect when the census kicks off in March, how to fill out the questionnaire, where to get help or answers to your questions and how to recognize a census taker if they knock on your door. Get your questions answered and discover all the facts about the census so you can be a source for accurate census information. Check out 2020Census.gov to learn all the basics, including who gets counted, what questions are asked, and a timeline of census operations.
<![if !supportLists]>v <![endif]>Share information with neighbors. Include articles and information on the 2020 census in upcoming publications such as newsletters for your neighborhood association or homeowner's association. & Post information on your community's social media platforms.
<![if !supportLists]>v <![endif]>Encourage your members to apply for a job with the U.S. Census Bureau! Learn more at 2020census.gov/jobs
<![if !vml]>

<![endif]>
Census Day is coming. In mid-March, homes across the country will begin receiving invitations to complete the 2020 Census. There are three ways to respond: online, by phone, or by mail. Learn more at 2020census.gov.
---
Neighborhood News is published monthly and information from neighborhood associations and others are welcome.
Please share this newsletter by forwarding it to your neighbors - post an excerpt in your community's newsletter, post a copy on your community bulletin board, website, Facebook or Nextdoor page.