Improved Collection Routes
Starting the week of May 6 2019
<![if !vml]>

<![endif]>
The City of Concord will implement an improved solid waste collection route system in May of this year. This improvement includes adjusted routes that will provide relief to customers who have experienced collection delays over the past months. These planned improvements mean that some customers in your neighborhood will have a change in collection day that will affect collection of garbage, recycling, bulky waste, and yard waste.
While notices will be mailed to customers who have a change in their schedule by early April, Solid Waste staff would like to attend any planned neighborhood meetings scheduled to occur in February or March to discuss the changes and answer resident questions.
Customers in the following recognized neighborhood will have changes in their collection day:
<![if !vml]>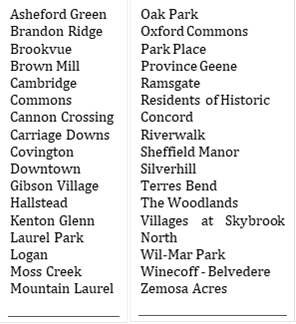 <![endif]>
The City is committed to providing excellent service to customer and would like to ensure that all effected customers fully understand these changes. Please email jzarc@concordnc.gov to let us know if you have time during your next scheduled meeting to allow Solid Waste staff to present information to residents in your neighborhood. Thank you for working in partnership with us to help us inform impacted customers!
To learn more, visit https://www.concordnc.gov
---
SAVE THE DATE
2019 Spring Litter Sweep – April 12 -27
Organize a team of volunteers to collect litter from Concord's roadway during the 2019 Spring Litter Sweep. Help beautify Concord. Recognize Neighborhoods can win cash prizes - $200, $150, and $100 for collecting the most bags of litter. Click on the image below to watch the video and learn more about this statewide cleanup effort. Send an email to jzarc@concordnc.gov to sign up.
<![if !vml]>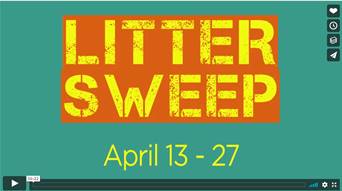 <![endif]>
---
Growing your membership.
Tips for Recruiting and Retaining Members for your Neighborhood Organization
February 27, 2019 | 6:30 p.m. | Fire Station #9
<![if !vml]>

<![endif]>
People are the key resource to building an organization, so finding good people for your organization takes some work and time. It may be the single most important activity for ensuring sustainability and strengthening your community. Attend this important workshop to learn and share methods for growing and maintaining an active membership.
Some organizations become complacent with the members they have, they don't feel the need to recruit anymore. They become a small organization who has gotten comfortable with each other, and just quit recruiting. Without knowing it, these organizations become vulnerable, because if any key member leave, then often the organization fails to continue. Organizations that want to improve conditions, but aren't always recruiting lose their strength.
The workshop will be held at Fire Station #9 located at 1020 Ivey Cline Road (just off Poplar Tent Road and I85), 6:30 p.m. on Wednesday February 27, 2019.
During the training, we will go over methods to identify new members, strategies for hosting inviting meetings, the importance of hosting fun social events to allow people to meet and network, and how to utilize social media in your efforts.
For more information or questions about this workshop, contact Cherie Jzar at (704) 920-5298 or send email to jzarc@concordnc.gov.
---
Complete your annual review
Due by March 15
To verify that your neighborhood organization continues to meet the program criteria, please complete the Annual Review Form. Forms must be completed by March 15, 2019.
Also if there were changes to your bylaws in 2018, please submit via email to jzarc@concordnc.gov a copy of your organizational bylaws.
Any recognized neighborhood organization failing to meet the program criteria may fall under "dormant status." Neighborhoods with a "dormant status" designation will be removed from the official recognized neighborhood listing and will not be eligible for Neighborhood Matching Grant funding until such time as they re-activate their status. A notice of the dormant status designation for inactive neighborhood groups will be emailed to the last provided list of elected officers.
CLICK HERE TO ACCESS THE ANNUAL REVIEW FORM.
---
Neighborhood Leadership Council Meetings
Save the following dates and make plans to attend the 2019 quarterly Neighborhood Leadership Council Meetings. These meetings provide neighborhood leaders with a great opportunity to network with other leaders and received organized training.
<![if !vml]>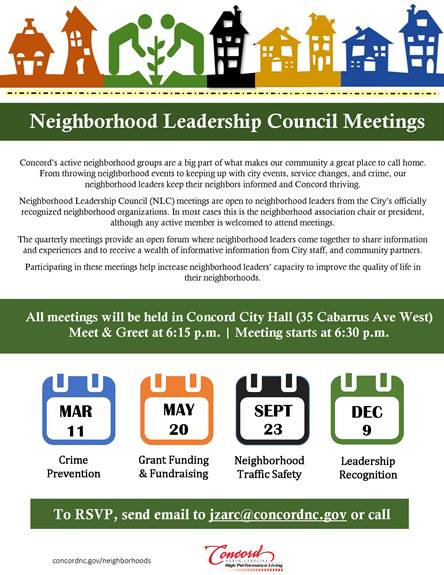 <![endif]>
---
February 2019 Neighborhood Meeting Calendar
Click the above header to view the neighborhood organization meeting calendar.

The calendar includes meeting dates, times and locations for neighborhood meetings, City Council Meetings, Planning and Zoning Commission Meetings and other city events. Please note that meetings date and times are subject to change without notice. This is a live calendar so changes are made immediately after they are reported. For a full schedule of all recognized organization meetings, visit the program's website concordnc.gov/neighborhoods.
---
Neighborhood News is published monthly and information from neighborhood associations and others are welcome.
Please share this newsletter by forwarding it to your neighbors - post an excerpt in your community's newsletter, post a copy on your community bulletin board, website, Facebook or Nextdoor page.