Happy New Year!
Best Wishes for a Productive & Prosperous 2020
Neighborhood Leaders - Thank you for your continuous service to your neighborhood.
<![if !vml]>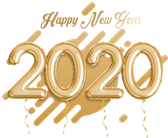 <![endif]>
For the past 20 years, the Partnership for Stronger Neighborhoods Program has been a moving force in helping our organization make good informed decisions that moves our city forward in a positive direction. Our commitment is center in the value of delivering excellent service and working closely with you and other community partners to plan for, protect, and enhance the quality of life in the City. We hope that you will continue to maintain close connections with your neighborhood liaison and other city officials in to the new year and new decade.
Best Wishes for a prosperous 2020!!
---
~ Congratulations ~
2019 Neighborhood Partnership Award Winners!
<![if !vml]>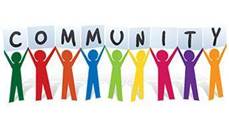 <![endif]>
Through the Neighborhood Partnership Awards program, neighborhoods have the opportunity each year to recognize an individual or a community group who has provided outstanding service, leadership, and/or a significant act of kindness. These individuals are neighbors who have significantly impacted their neighborhoods and contributed to increasing the quality of life in our city. Below is a list of 2019 Award Winners:
Dian Norwood
Beverly Hills
Patty Swift
Gibson Village
Roe & Roy Thompson
Kiser Woods
Kevin Jones
*Gordon Heights
Lauren Bredolo
Covington
* is not a City recognized neighborhood
These individuals are being recognized by their neighborhood organization for the hard work and significant efforts made over the past year to engage residents, lead, or invest in their neighborhoods. We will celebrate this recognition during the Neighborhood Leadership Council Recognition event on Monday, January 13, 2020 at 6:30 p.m. in City Hall Council Chambers located at 35 Cabarrus Ave West. Hopefully you and any guest can attend this event. RSVP for the recognition event.
---
City of Concord's Elected Officials
On December 12, 2019, reelected City Council Members Brian King, Jennifer Parsley, and John Sweat took their oath of office along with newly elected City Council Member Andy Langford (District 1). Also the City Council elected John Sweat as Mayor Pro-Tem for 2020. Click here to view photos captured by Mike Anderson.
<![if !vml]>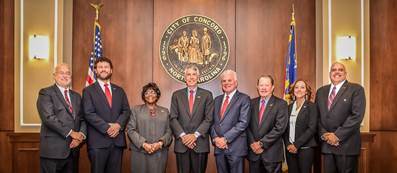 <![endif]>
Mayor
William C. "Bill" Dusch
City Council
Andy Langford - District 1
W. Brian King - District 2
Ella Mae Small – District 3
JC McKenzie – District 4
Terry Crawford – District 5
Jennifer Parsley – District 6
John Sweat, Jr. – District 7
Concord's Mayor and City Council are all elected at-large to four-year staggered terms. Candidates for Mayor must reside in City Limits, and Candidates for City Council must reside within the district from which they run for office. To learn more about Concord's elected officials visit concordnc.gov.
---
2020 Community Needs Assessment
Let local organizations and leaders know what challenges are facing Cabarrus County residents.
<![if !vml]>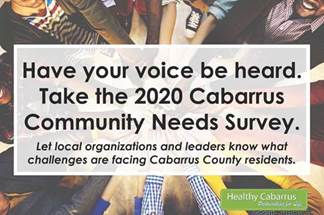 <![endif]>
Every four years Cabarrus County conducts a needs assessment to identify the most pressing issues facing residents in our community. The results of the assessment help local organizations, policymakers and community leaders to better address the unmet needs faced by our neighbors. Please click here to complete an anonymous 15 minute survey. Your feedback is important and it will help area agencies understand and address health and quality of life issues in our community.
Healthy Cabarrus and other local partners are sponsoring this assessment, which has been done since 2000. Findings from the survey will be available by summer of 2020 and action plans to address top priorities will be developed in early 2021. To learn more, visit https://www.healthycabarrus.org/
---
Loose Leaf Collection Continues
Curbside pickup from November 4 – February 14
<![if !vml]>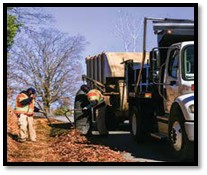 <![endif]>The City of Concord's annual loose-leaf collections continues through Feb 14. This popular program provides each Concord resident three opportunities to have un-bagged leaves collected curbside.
Just a reminder: although bagged leaves, grass, and other yard waste are picked up year-round, loose leaf collection offers residents the extra convenience of simply raking leaf piles to the curb. Be a good neighbor—don't put leaves out too early. If residents cannot wait until their next loose-leaf cycle to have leaves collected, they should simply bag leaves near the curb on their normal collection day.
The schedule is also available for download at concordnc.gov, or you can view a customized solid waste calendar and confirm your schedule at concordnc.gov/whatsmyday. Residents can also download the CARTology mobile app, for Apple or Android devices.
For more information about the program, visit concordnc.gov or contact the Customer Care Center at (704) 920-5555.
---
Jan 14 deadline approaching – Go Paperless
Sign up now to pay your utility bill online
Conveniently pay your utility bill online and go paperless and/or enroll in autopay for a chance to win one of three Amazon Fire HD 10 Tablets! Double your chances of winning by signing up for both! Click here to learn more, and click here for official rules.
---
Dr. Martin Luther King, Jr. 2020 Holiday events
<![if !vml]>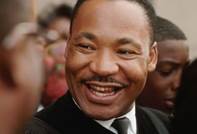 <![endif]>The Concord/Cabarrus MLK Celebration Committee invites community organizations and groups to participate in the 2020 MLK Holiday Parade which will be held on Monday January 20, 2020. Line-up begins at 11:00 at Union Street (Near Main Library). Interested individuals or groups should complete the registration form or contact for more information. Dr. Martin Luther King, Jr. Holiday is observed on the third Monday of January each year to pay honor to Dr. Martin Luther King. Click here for 2020 event more information.
Help STUFF the BUS with non-perishable food items to benefit the Opportunity House. Bring your donations to the MLK Plaza located at the Cabarrus Avenue Roundabout between 10:00 a.m. - 1:00 p.m. on Monday January 20. Event held in partnership with Rider Transit.
---
January 2020 Neighborhood Meeting Calendar
Click the above header to view the neighborhood organization meeting calendar.

The calendar includes meeting dates, times and locations for neighborhood meetings, City Council Meetings, Planning and Zoning Commission Meetings and other city events. Please note that meetings date and times are subject to change without notice. This is a live calendar so changes are made immediately after they are reported. For a full schedule of all recognized organization meetings, visit the program's website concordnc.gov/neighborhoods.
---
Neighborhood News is published monthly and information from neighborhood associations and others are welcome.
Please share this newsletter by forwarding it to your neighbors - post an excerpt in your community's newsletter, post a copy on your community bulletin board, website, Facebook or Nextdoor page.