<![if !vml]>

<![endif]>Beautify your Neighborhood
Join forces with your neighbors to make a difference
Believe it or not, spring is just around the corner. The grass will suddenly become a lot greener and flowers will begin to bloom. With warmer weather comes the opportunity to partake in more outdoor activities like playing in parks, or going for a walk in the neighborhood. This time of year also presents a great opportunity for neighborhood groups to work with neighbors, civic groups, business partners and the city to engage in community beautification initiatives. Here are a few ideas and resources to consider that will help make a visible difference in your neighborhood and throughout the city.
Participate in the 2019 Spring Litter <![if !vml]>

<![endif]>Sweep
Every spring and fall, city co-workers together with recognized neighborhood organizations, collect litter along the city's roadsides. 2019 Spring Litter Sweep is scheduled for Saturday, April 13 through Saturday, April 27. Litter Sweep is a statewide roadside litter removal initiative. Neighborhoods can win a cash prize for collecting the most bags of litter. If your neighborhood would like to participate in this event, notify your assigned neighborhood liaison or contact Cherie Jzar (704) 920-5298.
<![if !vml]>

<![endif]>
Participate in the 2019 City Nature Challenge
Become a Citizen Scientist and take part in the City Nature Challenge where citizens commit to going outside and snapping pictures of observations of living things to iNaturalist App starting April 26. Join forces in a friendly competition with neighbors and citizens in the Charlotte Metro region and with more than 120 cities on six continents from April 26 – April 29 to explore nature all around them and document the living things they find! The community that makes the most observations of nature, find the most species, and have the greatest number of participants wins the challenge. To learn more about the City Nature Challenge and iNaturalist in person, come out to the Bunny Run Festival (Saturday, April 20, 9-11 a.m. in Downtown Concord) and Flutter By Earth Day (Monday April 22, 3:30-5:30 p.m. at McGee Park). Learn more and see which other cities are participating by visiting citynaturechallenge.org and follow @CLTCNC on Facebook.
<![if !vml]>

<![endif]>
Plan a Neighborhood Improvement Project
Develop a plan to take on a project that will physically improve your neighborhood. Neighborhood Improvement projects include physical improvements to public areas in your community. Here are some ideas to get you started: Repurpose open space, create a gathering area for homeowners, install identification signs, landscape the front entrance of your neighborhood, install a Little Free Library, install new lighting at entryways to improve visibility, plant a tree, install art pieces, or commission an artist to paint a mural. Grant funds are available to support these projects. The program provides matching grant funds to support recognized neighborhood groups in completing eligible improvement projects. To learn more about the Neighborhood Matching Grant Program visit concodnc.gov/neighborhoods or contact Cherie Jzar (704) 920.5298.
<![if !vml]>

<![endif]>Adopt a Street, Adopt-A-Stream, or Join the Clean-A-Creek effort
Litter-free streets, streams, parks, and public areas add to the beauty and appeal of our community. To improve the appearance of Concord and to encourage community involvement, the City established an Adopt-A-Street and the Adopt-A-Stream programs. These programs organize individuals and <![if !vml]>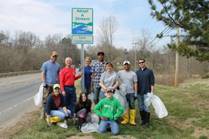 <![endif]>groups around the City that are interested in helping remove litter from public areas and roadsides. Participating groups commit to picking up litter at least once every three months (or more it necessary) along their adopted section of street and stream. Supplies (litterbags, safety vests and gloves) are available provided. In recognition of the commitment, signs will be installed along streets that have been adopted identifying the groups that have volunteered to help keep them litter-free. For more information on the Adopt-a-Street Program, contact Concord Transportation Director Phillip Graham at (704) 920-5338 or send email to grahamp@concordnc.gov. The Clean-A-Creek effort is for those groups who want to clean on a onetime basis and not necessarily commit to doing so several times a year. For more information on Adopt-A-Stream or the Clean-A-Creek effort, contact Crystal Brown at 704-920-5287 or brownc@concordnc.gov.
<![if !vml]>

<![endif]>Plant a Pollinator Garden & help build The Butterfly Highway
Pollinators are necessary for feeding the world. Many pollinator species in our area are experiencing population declines due to pesticides and habitat loss. You can help restore native pollinator habitats to our area by planting in your yard, business, school, or neighborhood a garden that will serve as a habitat to monarch butterflies and other pollinators. Your garden should include native plants and flowers. For more information about the Butterfly Highway Project, visit butterflyhighway.org. Also contact the Concord Wildlife Alliance to for more information on how you can help to create a network of native flowering plants to support butterflies, bees, birds and other pollen and nectar dependent wildlife. If you are on Facebook, follow Concord Environmental Educator Mandy Smith-Thompson for great tips and information on ways to care for the natural world through sound decision-making and good stewardship.
---
Be a Good Neighbor
Properly landscape and maintain your property
Good Neighbors know that proper care and maintenance of their home and landscaping benefits the entire community. We've all seen the occasional property where the grass in the lawn is overgrown to the point where tall weeds and overgrown bushes seem to be the only features. It stands out and makes the property unattractive and unsightly. Warmer weather means that grass will start to grow. So be a good neighbor and take proper care of your yard. Remember properties should also be kept free of noxious weeds such as poison ivy, poison oak, and poison sumac. No parking on the front lawn or junk cars. Failure to properly maintain your property could result in the property owner/resident receiving a notice from Code Enforcement to rectify the situation within five days of receipt of the notice. For more information on Code Enforcement and the city' codes, contact your area's Code Enforcement Officer or visit concordnc.gov.
---
SAVE THE DATE
Saturday April 27 - Safe Disposal Event.
The Spring 2019 Cabarrus-Concord Safe Disposal Event is Saturday April 27, 9-11 a.m., at CFA Village Parking Lot located at 280 Concord Parkway N. Two shred trucks will be onsite providing free secure document shredding and recycling for Cabarrus County residents. Please limit your documents to no more than three 13-gallon trash bags or bankers boxes. The event will also feature free, safe collection and disposal of electronic waste (such as televisions, computers, and other devices) and unused/expired prescription medications. For more information on the Spring 2019 Cabarrus-Concord Safe Disposal Event, call 704-920-3209.
---
Complete your annual review
Due by March 15
To verify that your neighborhood organization continues to meet the program criteria, please complete the Annual Review Form. Forms must be completed by March 15, 2019.
Also if there were changes to your bylaws in 2018, please submit via email to jzarc@concordnc.gov a copy of your organizational bylaws.
Any recognized neighborhood organization failing to meet the program criteria may fall under "dormant status." Neighborhoods with a "dormant status" designation will be removed from the official recognized neighborhood listing and will not be eligible for Neighborhood Matching Grant funding until such time as they re-activate their status. A notice of the dormant status designation for inactive neighborhood groups will be emailed to the last provided list of elected officers.
CLICK HERE TO ACCESS THE ANNUAL REVIEW FORM.
---
Neighborhood Leadership Council Meetings
Save the following dates and make plans to attend the 2019 quarterly Neighborhood Leadership Council Meetings. These meetings provide neighborhood leaders with a great opportunity to network with other leaders and received organized training.
<![if !vml]>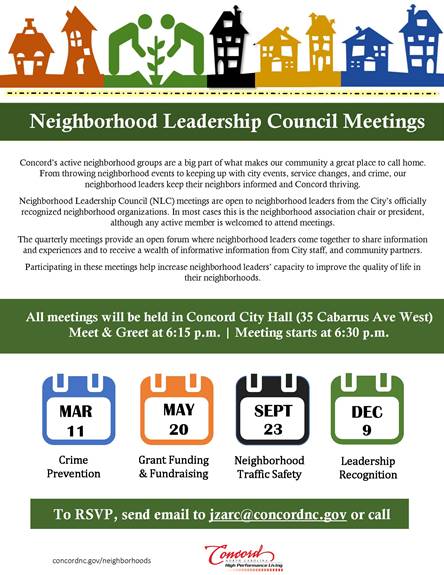 <![endif]>
---
February 2019 Neighborhood Meeting Calendar
Click the above header to view the neighborhood organization meeting calendar.

The calendar includes meeting dates, times and locations for neighborhood meetings, City Council Meetings, Planning and Zoning Commission Meetings and other city events. Please note that meetings date and times are subject to change without notice. This is a live calendar so changes are made immediately after they are reported. For a full schedule of all recognized organization meetings, visit the program's website concordnc.gov/neighborhoods.
---
Neighborhood News is published monthly and information from neighborhood associations and others are welcome.
Please share this newsletter by forwarding it to your neighbors - post an excerpt in your community's newsletter, post a copy on your community bulletin board, website, Facebook or Nextdoor page.