Don't miss the deadline! May 21
Neighborhood Matching Grant Program
Recognized Neighborhoods that have participated in the Neighborhood Program for at least one year are eligible to apply for grant funds to complete projects that improves the neighborhood physically or addresses a need through active involvement of the neighborhood residents themselves. The goal of the program is to facilitate neighborhood self-improvement. All projects are initiated, planned and implemented by neighborhood members. Every award is matched by the neighborhoods' resources of volunteer labor, donated materials, donated professional services and/or cash. The program encourages collaboration and partnerships with the city and others. Grants are awarded annually by City Council. Eligible recognized neighborhood organizations should carefully read the program guidelines.
When are applications due?
The Application Deadline is 5:00 p.m. on Monday May 21, 2018
How much money can we request?
The maximum award is $3,000 per neighborhood organization. Neighborhoods may apply for any amount not to exceed $3,000. The value of the neighborhood's contribution must be equal to or greater than the amount awarded.
What kinds of projects are funded?
There is no specific list of projects, however, examples of projects might include, landscaping, sign toppers or entrance signs, bank stabilization, new recreational amenities, or neighborhood watch activities. All projects must demonstrate its capacity to benefit the entire neighborhood, and must address a neighborhood issue or need in one of the following five categories:
<![if !supportLists]>1. <![endif]>Physical Improvement Projects
<![if !supportLists]>2. <![endif]>Neighborhood Identity Projects
<![if !supportLists]>3. <![endif]>Community building events
<![if !supportLists]>4. <![endif]>Environmental projects
<![if !supportLists]>5. <![endif]>Public Safety
What is a "match" and how can my organization meet it?
A matching grant means your organization must match the value of grant funds provided at a rate of 1 to 1 or dollar for dollar. This match can be satisfied through cash or a combination of volunteer hours, cash and/or in-kind donations.
For more information about the NMG or for an application form, visit concordnc.gov/neighborhoodgrants.
---
Concord Park & Recreation
2018 Summer Camps
<![if !vml]>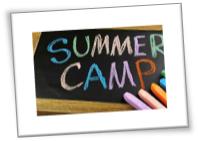 <![endif]>It's hard to belive that summer is almost here. If you are looking for some interesting summer camps, check out the City Park & Recreation Summer Camp.
Concord Park & Recreation sponsors an 8-week Summer Camp Program for children ages 6-10 years for Summer Playground and 11-13 years for Summer GoneAlot program. Camp begins on June 18 and ends on August 10. Camp staff supervises daily activities field-trips and so much more. Hours are from 7:30 a.m. until 6:00 p.m. For fee information, a list of camp activiites, and scholarship info, vist concordnc.gov or call 704-920-5600.
---
SAVE THE DATE - August 7, 2018<![if !vml]>

<![endif]>
National Night Out
National Night Out is celebrated across the US And internationally every year on the first Tuesday of August. It is a community-building campaign that promotes police-community partnerships and neighborhood camaraderie to make our neighborhoods safer, more caring places to live. All neighborhoods are encouraged to participate in the community wide celebration by hosting an event held that evening. If you are interested in additional information, please contact Sgt. Chris Friguglietti Phone: 704-920-5063 or email: friguglc@concordnc.gov.
---
Good Neighbor Tip
Maintaining your front lawn
<![if !vml]>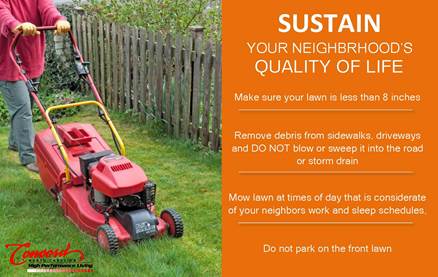 <![endif]>
Good Neighbors can help sustain their neighborhood's quality of life by maintaining their front lawns. Follow these simple tips:
Mow regularly. Make sure your lawn is less than 8 inches and always mow at times of the day that is considerate of your neighbor's work and sleep schedule.

Remove debris from sidewalks, driveway and DO NOT blow or sweep yard clippings into the road.

Do not park on the front lawn.
---
<![if !vml]>

<![endif]>
Saturday, May 12 in Downtown Concord
Come enjoy performing and visual artists in the streets of beautiful historic Concord. Offerings include art vendors, music, food and Creation Station, a children's hands-on activity area. 10:00 a.m. - 4:00 p.m. in Downtown Concord. For more info: Concord Downtown Development Corporation, (704) 784-4208.
---
Join us for the Haulers on Union Parade
Thursday, May 17 in Downtown Concord
<![if !vml]>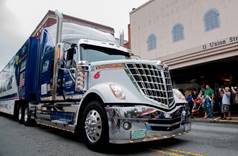 <![endif]>The Haulers on Union parade event features the haulers of the NASCAR Sprint Cup Series teams Thursday, May 17 in Concord and a free party in the streets with live music, activities for children, food trucks, giveaways, race cars on display and so much more. En route to Charlotte Motor Speedway to load in for the NASCAR Sprint All-Star Race, the drivers will transport the race cars down Union Street in downtown Concord – arrival time is expected around 6:00 p.m.
Come out and line the streets to welcome the teams to Concord! For more information, visit 600festival.com.
---
May 2018 Neighborhood Meeting Calendar
Click the above header to view the neighborhood organization meeting calendar.

The calendar includes meeting dates, times and locations for neighborhood meetings, City Council Meetings, Planning and Zoning Commission Meetings and other city events. Please note that meetings date and times are subject to change without notice. This is a live calendar so changes are made immediately after they are reported. For a full schedule of all recognized organization meetings, visit the program's website concordnc.gov/neighborhoods.
---
Neighborhood News is published monthly and information from neighborhood associations and others are welcome.
Please share this newsletter by forwarding it to your neighbors - post an excerpt in your community's newsletter, post a copy on your community bulletin board, website, Facebook or Nextdoor page.