COVID-19 Related Updates
Elected officials with Cabarrus County, the cities of Concord and Kannapolis, and the towns of Harrisburg, Midland and Mt. Pleasant announced the local Stay-at-Home Proclamation will expire on April 29 at 5 p.m. with no extension. The move aligns the County with North Carolina's Stay-at-Home Order, which expires on May 8. Visit concordnc.gov for full details.
Atrium Health mobile Coronavirus Testing Center
In an effort to meet community members where they work, live and play and provide equitable care to those disproportionately affected by the coronavirus, including communities with limited access to transportation, Atrium Health is providing mobile Coronavirus Testing Centers throughout the region. Each week, Atrium Health will drive a mobile screening and testing bus to communities that need extra help. Two testing sites are schedule to arrive in Concord soon. Details are noted below:
Tuesday May 5, 2020, from 10:00 a.m. to 4:00 p.m.
Daniel Pharr Building (Marvin Caldwell Park)
362 Georgia Street SW
Concord, NC 28025
Friday May 8, 2020, from 12:00 p.m. to 6:00 p.m.
Cabarrus Dream Center
280 Concord Pkwy. S, Suite 110
Concord, NC 28027
If you're having coronavirus symptoms, just walk up – you don't need an appointment or identification (ID). Some symptoms are fever, cough, shortness of breath, or loss of smell and/or taste. For more information on how they're conducting mobile testing, visit atriumhealth.org.
Special Solid Waste Message - Help us serve you better
A special message from the Solid Waste Department was posted to neighbors on the City's Nextdoor feed. The message included actions that neighbors should consider when preparing household garbage, recycling and bulky waste for collection during this time. Neighborhood leaders are encouraged to share this information with members to help ensure for the smooth and efficient collection of solid waste materials from residential area throughout the City. Visit the City's Nextdoor.com feed to stay up in the know.
---
Grants for Recognized Neighborhoods
Application deadline – Friday May 22
Recognized Neighborhoods that have participated in the Neighborhood Program for at least one year are eligible to apply for up to $3,000 in grant funds to complete projects that improves the neighborhood physically or addresses a need through active involvement of the neighborhood residents themselves. The Neighborhood Matching Grant (NMG) Program was established in 2002 for recognized neighborhood organizations to help them improve the quality of life in their communities. Awarded grant money must be matched with cash, labor, and/or in-kind donations of goods or services.
<![if !vml]>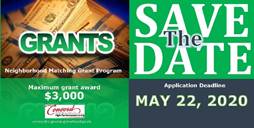 <![endif]>To download an application or for more information about the program, visit concordnc.gov/neighborhoodgrants.
---
City of Concord will host Virtual Meetings
Due to efforts to limit large gatherings to prevent the spread of the Coronavirus, The City Council, Planning & Zoning, Historic Commission and other public meetings will be held virtually over video conference until further notice. Those who wish to join the meeting should follow the links below to open the agenda for the desired meeting.
<![if !vml]>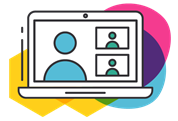 <![endif]>
May 12 City Council Work Session 4:00 PM
May 13 Historic Preservation Commission 6:30 PM
May 14 City Council Regular Session 6:00 PM
May 19 Planning and Zoning Commission 6:00 PM
---
George W. Liles Parkway Small Area Plan - Virtual Community Meeting
<![if !vml]>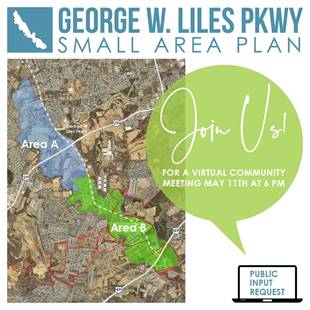 <![endif]>
Members of the community are invited to join a virtual community meeting on Monday May 11th at 6PM and complete a community input survey to provide input that will help inform the development of the George W. Liles Parkway Small Area Plan. The George W. Liles Small Area plan will help establish a unified vision for future development along the corridor. Both the virtual community meeting and community input survey will be available on the City's public engagement portal: concord.publicinput.com. https://publicinput.com/F280
For additional information about the planning process, follow the link below to read the new article or contact Kaylee Caton, Design Manager at 704-920-5151 or catonk@concordnc.gov.
---
Sustainable Suggestions
from Concord's Environmental Educator, Mandy Smith-Thompson
There is no doubt that there <![if !vml]>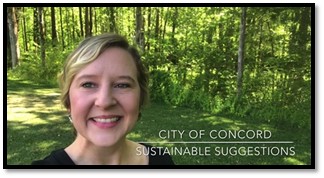 <![endif]>are many lessons that our community will take away from this crisis. One most glaring is that we all share a role in doing our very best to become stewards of our city. We're all connected and our actions are linked. Thus our ability to work together to reduce, reuse, and recycle can be impactful to our bottom line and most importantly our environment. Over the past several weeks, Concord's Environmental Educator Mandy Smith-Thompson has shared a number of video clips and helpful information and opportunities for learning on nextdoor.com and facebook.com. Topics range from information about composting to and inside look at where our recycling goes when it leaves your house.
Neighborhood Leaders are encouraged to review the information shared and pass it along to your members. Also, if possible, like her Facebook page https://www.facebook.com/ConcordEnvironmentalEd and share her posts. Feel free to suggest a topic to cover. Contact Mandy here: smithal@concordnc.gov or 704.920.5379.
---
SAVE THE DATE
National Night Out City Celebration date changed to Tuesday October 6.
<![if !vml]>

<![endif]>National Night Out is celebrated across the US And internationally every year on the first Tuesday of August or on the first Tuesday in Ocotober. It is a community-building campaign that promotes police-community partnerships and neighborhood camaraderie to make our neighborhoods safer, more caring places to live. Due to the impacts of the COVID-19 pandemic, communities across the nation are opting to hold the 2020 NNO celebrations on October 6th and the City of Concord is electing to do the same. We're asking neighborhood groups to plan to hold their celebrations in the fall on October 6. To sign up or for more information, contact Sgt. Kelly Segraves 704-920-5069 email: seagrakl@concordnc.gov.
---
Neighborhood News is published monthly and information from neighborhood associations and others are welcome.
Please share this newsletter by forwarding it to your neighbors - post an excerpt in your community's newsletter, post a copy on your community bulletin board, website, Facebook or Nextdoor page.