The Good Neighbors Ordinance Amendment provides greater opportunity for public input on zoning petitions.
<![if !vml]>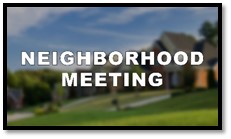 <![endif]>
In order to provide additional public input at an earlier stage in the rezoning process, and to better ensure that impacted residents are aware of a rezoning and the details of the request the City recently amended the development ordinance to requires that the petitioner also send notice of a neighborhood meeting to neighborhood organizations and homeowner's associations with boundaries located within one-half mile of any part of the zoning change, within ten (10) days of filing the petition. This is refer to this as the Good Neighbors Ordinance Amendment.
The Concord Development Ordinance regulates zoning amendments and hearing procedures and requires petitioners conduct a neighborhood meeting for any zoning amendments which increase density or intensity. The purpose of the meeting is to share detailed information to adjacent property owners about the petition. Before holding the neighborhood meeting, the petitioner is required to provide notice to all adjacent property owners. In lieu of the meeting, the petitioner may notify all adjacent owners of the proposal via certified mail.
How it works?
At the time of filing a petition, Planning staff will review the location of the rezoning and identify if there are any recognized neighborhood associations or homeowners 'associations if they can be identified, with boundaries located within one-half mile of any part of the zoning change. After receiving the information, the petitioner is required to send the identified organizations the notice of a neighborhood meeting within ten (10) days of filing the petition. This neighborhood notice is in addition to the neighborhood meeting requirement.
For more information about the rezoning process and the City's development ordinance, visit concordnc.gov.
---
City Arborist Bill Leake
Fall Tree Care
<![if !vml]><![endif]>
From late fall through early winter is an excellent time to plant trees and to assess tree maintenance needs in your neighborhoods. Tree planting days are a great way for neighbors to meet and establish a sense of pride in their neighborhood. If you retain landscape contractors year-round they could also be of assistance if they have staff properly trained in tree planting and care. For more info on tree care visit the North Carolina Urban Forest Council's website.
Fall is also the time to band trees to protect them from cankerworms also known as inchworms that emerge from the ground as adults from November through January. Cankerworms feed on leaves in the spring and can defoliate many tree species. While these insects and the damage they cause are most noticeable in the spring, the best time to control them is in the fall. Click here for more information on tree banding and fall cankerworm control.
Bill Leake is the City of Concord Arborist is available to support recognized neighborhoods by providing information, answering questions. Contact Bill via email at LeakeB@concordnc.gov or call 704-920-5393.
---
<![if !vml]>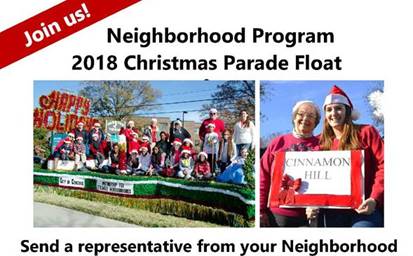 <![endif]>
Please extend an invitation to a family or individual in your neighborhood to join us on November 17, 2018 and ride along on the Neighborhood Program Christmas Parade Float.
One you've identified the person or family, please click here to complete the registration form.
---
Join the Discussion
New Online <![if !vml]>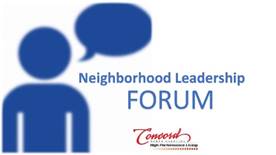 <![endif]>Forum for Neighborhood Leaders
If you currently serve as a board member of a recognized neighborhood organization or a leader in any neighborhood or homeowner's association in the City of Concord, please click the above image to register and join the online discussion. As you provide answers to questions and provide insight on topics, the forum will become a knowledge base of information to help inform the work of neighborhood leaders across the City.
This is the local place to engage online in discussions on best practices related to neighborhood organization administration as well as context or info on how to deal with common issues. Working together we can leverage the collective experiences and expertise of leaders throughout our community to assist each other in developing solutions to challenges impacting neighbors in the City of Concord.
To access the forum directly, visit https://publicinput.com/3376.
Recognized Neighborhood Leaders are encouraged to share this message with all Homeowner's Association or Neighborhood Association executive board.
---
Loose Leaf Collection - OCT 30 – FEB 8
On Monday, October 29, the City of Concord will begin its annual loose leaf collection season. This popular program provides each Concord resident three opportunities to have un-bagged leaves collected curbside, between October 29 and <![if !vml]>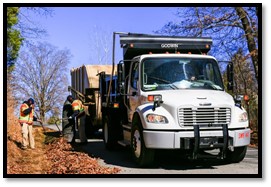 <![endif]>February 8. The program is offered by Solid Waste Services to residents at no extra charge.
Although bagged leaves, grass, and other yard waste are picked up year-round, loose leaf collection offers residents the extra convenience of simply raking leaf piles to the curb. Be a good neighbor—don't put leaves out too early. If residents cannot wait until their next loose leaf cycle to have leaves collected, they should simply bag leaves near the curb on their normal collection day.
Download the full schedule at concordnc.gov. For more information about the program or collection schedule, contact the Customer Care Center at 704-920-5555.
---
Neighborhood Partnership Awards
Make your nomination today!
<![if !vml]><![endif]>
Please help us recognize our neighborhood heroes. Perhaps your neighborhood organization has a long term volunteer board member or an individual who has done something exceptional to help build up the community? Maybe your organization has partnered with a community group or a scout troop or a group from a local church? We know that there are people working every day to increase the quality of life in our neighborhoods and we want to acknowledge them and honor them. We need your help.
Neighborhood leaders should submit nominations by Monday November 12, 2018. Simply complete the nomination form or send an email which includes a description of the nominee and why they are worthy of recognition to jzarc@concordnc.gov.

The neighborhood partnership awards are presented to individuals or groups who have made significant efforts to enhance the quality of life in Concord's neighborhoods over the past year. Individuals or groups recognized should have service work, leadership, and/or acts of kindness for your neighborhood that has impacted their neighbors and contributed to making their neighborhood and the city a great place to live, work, and play. Winners will also be featured in the City Circular Magazine, the neighborhood newsletter, and posted on the program website.
---
SAVE THE DATES
<![if !supportLists]>· <![endif]>Election Day – Tuesday, November 6 (polls close at 7:30 p.m.)
<![if !supportLists]>· <![endif]>STUFF THE BUS Food Drive - November 2 - December 14
<![if !supportLists]>· <![endif]>Concord Christmas Tree Lighting Event - Friday, November 16
<![if !supportLists]>· <![endif]>Concord Annual Christmas Parade - Saturday, November 17
---
November 2018 Neighborhood Meeting Calendar
Click the above header to view the neighborhood organization meeting calendar.

The calendar includes meeting dates, times and locations for neighborhood meetings, City Council Meetings, Planning and Zoning Commission Meetings and other city events. Please note that meetings date and times are subject to change without notice. This is a live calendar so changes are made immediately after they are reported. For a full schedule of all recognized organization meetings, visit the program's website concordnc.gov/neighborhoods.
---
Neighborhood News is published monthly and information from neighborhood associations and others are welcome.
Please share this newsletter by forwarding it to your neighbors - post an excerpt in your community's newsletter, post a copy on your community bulletin board, website, Facebook or Nextdoor page.