Veteran's Day Event
Monday November 11, 2019
<![if !vml]>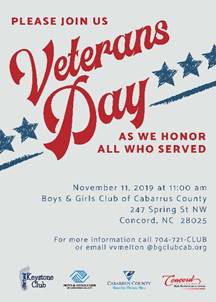 <![endif]>Honoring All who Served!
Cabarrus County Veterans Services, the City of Concord, and the Boys & Girls Club of Cabarrus County will hold the annual Veterans Day Program on Monday, November 11 at 11 a.m. The community is invited as area Jr. ROTC, honor guard members, the Ladies of Auxiliary and many others honor our veterans with a Presentation of the Colors, wreath presentation, songs from service and refreshments. Attendees are invited to a free luncheon following the ceremony.
For more information on the Veterans Day Program, contact Cabarrus County Veterans Services Office at 704-920-2869.
---
Concord Christmas Parade – November 23
Send a representative from your neighborhood to ride the 2019 Neighborhood Program Christmas Parade Float.
Neighborhood Leaders please identify a representative or family from your neighborhood to ride on the Christmas Parade float. This is a great experience! Children are welcomed as long as they are accompanied by an adult. We always have lots of fun and it's a great time to meet other neighborhood representatives. The Concord Christmas Parade is scheduled for 2:30 pm on Saturday November 23, 2019.
<![if !vml]>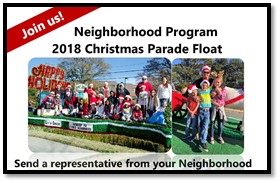 <![endif]>Please send an email with the name and contact information for the individual(s) from your neighborhood so that we can coordinate the specifics (i.e. gathering time and place).
---
City of Concord Traffic Calming Policy Updated
<![if !vml]>

<![endif]>On October 10, Concord City Council voted to update the City's Traffic Calming Policy. The policy serves as a guide for city staff and inform residents of the process for implementing traffic calming in residential areas. Since every neighborhood presents a unique set of circumstances, members of the City's Traffic Safety Advisory Committee (TSAC) as directed by the City Manager receive concerns from citizens and work to evaluate issues to work with residents in an effort to provide sensible and programmatic responses to each request. Where necessary, the committee also recommends certain actions to City Council for consideration of implementation.
The major updates are:
<![if !supportLists]>· <![endif]>Formalized the processes and <![if !vml]>
<![endif]>procedure for initiating a request (see form in document),
<![if !supportLists]>· <![endif]>No Vertical deflections (i.e. Speed bumps, humps, raised intersection), and
<![if !supportLists]>· <![endif]>Established timelines for trackability
Neighborhood leaders should familiarize themselves with the traffic calming policy. Doing so will help aid them in discussing concerns regarding traffic and pedestrian safety and other concerns in with neighbors. To review the updated policy, visit concordnc.gov.
---
2019 Neighborhood Partnership Awards
<![if !vml]>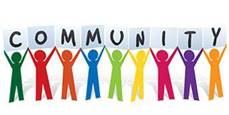 <![endif]>
Nominate your neighborhood hero today! & help us recognize individuals and organizations who are working to make a difference in Concord. The City of Concord's Partnership for Stronger Neighborhoods Program is seeking nominations for its annual Neighborhood Partnership Awards which honor individuals or groups that have made a positive impact in our City's neighborhoods. Active recognize neighborhoods should submit nominations by Monday November 18, 2019. Learn more, visit the City Nextdoor.com page.
---
Public invited to 2nd Community Workshop to provide feedback for the Dorton Park Master Plan.
Sat, Nov 23, 9:30 AM - 11:00 AM
<![if !vml]>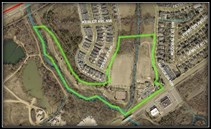 <![endif]>The public is invited to attend the 2nd workshop to discuss development options and improvements to Dorton Park. The workshop will be held in the large shelter at the park (5790 Poplar Tent Rd, Concord, NC 28027). Parks and Recreation staff will show residents and park users the latest concept plan. The revisions to this plan will incorporate comments received at the April workshop, and also revisions based on NCDOT's proposed Poplar Tent Road widening project.
The workshop is open to All City of Concord residents.
For more information, please contact Jason T. Pauling, AICP – Senior Planner at 704-920-5641 or paulingj@concordnc.gov
---
Loose Leaf Collection Starts in November
Curbside pickup from November 4 – February 14
<![if !vml]>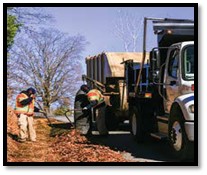 <![endif]>On Monday, November 4, the City of Concord will begin its annual loose-leaf collection season. This popular program provides each Concord resident three opportunities to have un-bagged leaves collected curbside, between November 4 and February 14.
Although bagged leaves, grass, and other yard waste are picked up year-round, loose leaf collection offers residents the extra convenience of simply raking leaf piles to the curb. Be a good neighbor—don't put leaves out too early. If residents cannot wait until their next loose-leaf cycle to have leaves collected, they should simply bag leaves near the curb on their normal collection day.
The schedule is also available for download at concordnc.gov, or you can view a customized solid waste calendar and confirm your schedule at concordnc.gov/whatsmyday. Residents can also download the CARTology mobile app, for Apple or Android devices.
For more information about the program, visit concordnc.gov or contact the Customer Care Center at (704) 920-5555.
---
Clearwater Artists Studio host Gibson Village PhotoVoice Exhibit
<![if !vml]>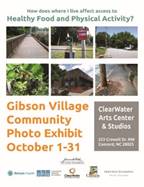 <![endif]>
The 2019 PhotoVoice <![if !vml]>

<![endif]>project collected Gibson Village community members' stories about the barriers and opportunities around accessing healthy food and recreational activities in their neighborhood. Through this project, residents in the Gibson Village neighborhood were asked to take photos showing how their neighborhood affects their health. The photos are currently on display in the a gallery at Clearwater are visitors and residents are encouraged to provide additional thoughts/feedback which will be used to develop a community action plan.
For more information, http://www.clearwaterartists.com/
---
Historic Preservation Plan Update
Public invited to Preservation Plan Presentation
<![if !vml]>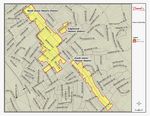 <![endif]>
The community is invited to learn about the architectural survey conducted as part of the City of Concord's Preservation Plan process. Staff and consultants will update the public on Wednesday, November 6, starting at 4:00 p.m. in the City Hall Council Chambers, located at 35 Cabarrus Avenue W.
The City of Concord is currently engaged in a planning effort to examine the future of Historic Preservation in Concord. This effort seeks to align community interests with objective analysis of historic resources
An opportunity for public comment on the architectural survey is available through www.concordnc.gov/preservationplan until November 15. Citizens are strongly encouraged to review the recommendations for their neighborhoods and attend this presentation event. For more information, contact Scott Sherril, Senior Planner at 704-920-5136 or
sherrills@concordnc.gov.
---
Cabarrus Arts Council
Commitment to the Arts
The Cabarrus Arts Council provides a wide variety of cultural arts programs that celebrate the rich diversity of our county and world. The Arts Council also operates the Davis Theatre and The Galleries, conducts one of North Carolina's largest art-in-education programs for both the Cabarrus County and Kannapolis City school systems, supports arts organizations and artists through grants and workshops and serves as a catalyst and consultant for public and corporate art. Check out the event calendar to view a comprehensive list of arts events sponsored by the Cabarrus Arts Council and other events happening throughout Cabarrus County.
Former Neighborhood Liaison and Retired City of Concord Fire Chief Ray Allen will compete in the Arts Council's signature event - Dancing for the Arts.
---
November 2019 Neighborhood Meeting Calendar
Click the above header to view the neighborhood organization meeting calendar.

The calendar includes meeting dates, times and locations for neighborhood meetings, City Council Meetings, Planning and Zoning Commission Meetings and other city events. Please note that meetings date and times are subject to change without notice. This is a live calendar so changes are made immediately after they are reported. For a full schedule of all recognized organization meetings, visit the program's website concordnc.gov/neighborhoods.
---
Neighborhood News is published monthly and information from neighborhood associations and others are welcome.
Please share this newsletter by forwarding it to your neighbors - post an excerpt in your community's newsletter, post a copy on your community bulletin board, website, Facebook or Nextdoor page.