Make your nomination today!
<![if !vml]><![endif]>
A community is best defined by its people. From neighborhood leaders to community groups to neighbors helping neighbors, there is no shortage of hometown heroes in Concord, NC.
Please help us recognize our neighborhood heroes. Perhaps your neighborhood organization has a long term volunteer board member or an individual who has done something exceptional to help build up the community? Maybe your organization has partnered with a community group or a scout troop or a group from a local church? We know that there are people working every day to increase the quality of life in our neighborhoods and we want to acknowledge them and honor them. We need your help.
Neighborhood leaders should submit nominations by Monday November 12, 2018. Simply complete the nomination form or send an email which includes a description of the nominee and why they are worthy of recognition to jzarc@concordnc.gov.

The neighborhood partnership awards are presented to individuals or groups who have made significant efforts to enhance the quality of life in Concord's neighborhoods over the past year. Individuals or groups recognized should have service work, leadership, and/or acts of kindness for your neighborhood that has impacted their neighbors and contributed to making their neighborhood and the city a great place to live, work, and play. Winners will also be featured in the City Circular Magazine, the neighborhood newsletter, and posted on the program website.
---
SAVE THE DATES
<![if !supportLists]>·

<![endif]>Downtown Candy Crawl – Oct 31
<![if !supportLists]>· <![endif]>Election Day – Tuesday, November 6 (polls close at 7:30 p.m.)
<![if !supportLists]>· <![endif]>Concord Annual Christmas Tree Lighting Event - Friday, November 16
<![if !supportLists]>· <![endif]>Concord Annual Christmas Parade - Saturday, November 17
---
Domestic Violence Awareness Month
National Domestic Violence Awareness Month is an annual designation observed in October. The U.S. Department of Justice estimates that 1.3 million women and 835,000 men are victims of physical violence by a partner every year.
Every 9 seconds, a woman in the U.S. is beaten or assaulted by a current or ex-significant other.
<![if !vml]>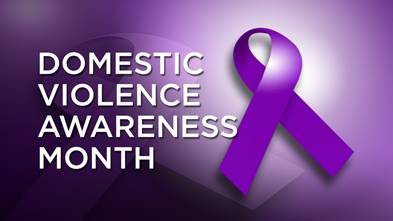 <![endif]>
If you know someone who is – or might be – a victim of domestic violence, your support is important. Learn all you can about domestic violence. Get as much information as you can about the issue including local resources and community support. In Concord, CVAN (Cabarrus Victims Assistance Network) provides safety, shelter and support for battered women and their children in Cabarrus County, NC. They have a number of tools and resources to support victims of domestic violence.
---
2018 Dogs Day Out – Saturday October 10
Dogs, owners, and pet lovers are all welcome to join in the sweet 16th celebration of Dogs Day Out on Saturday, October 20 from 10:30-2:00 at Les Myers Park (338 Lawndale Avenue SE).
<![if !vml]>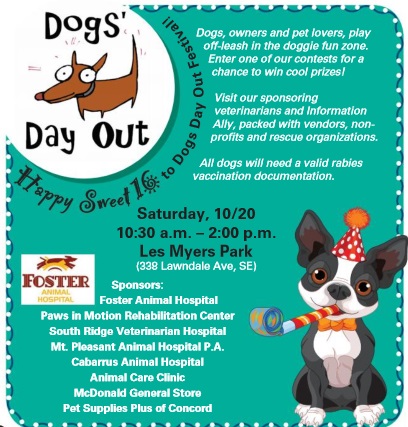 <![endif]>
---
Loose Leaf Collection - OCT 30 – FEB 8
On Monday, October 29, the City of Concord will begin its annual loose leaf collection season. This popular program provides each Concord resident three opportunities to have un-bagged leaves collected curbside, between October 29 and February 8. The program is offered by Solid Waste Services to residents at no extra charge.
Although bagged leaves, grass, and other yard waste are picked up year-round, loose leaf collection offers residents the extra convenience of simply raking leaf piles to the curb. Be a good neighbor—don't put leaves out too early. If residents cannot wait until their next loose leaf cycle to have leaves collected, they should simply bag leaves near the curb on their normal collection day.
<![if !vml]>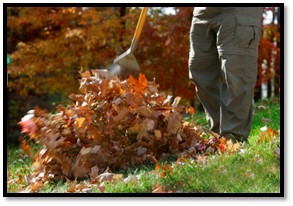 <![endif]>
Download the full schedule at concordnc.gov. For more information about the program or collection schedule, contact the Customer Care Center at 704-920-5555.
---
October 2018 Neighborhood Meeting Calendar
Click the above header to view the neighborhood organization meeting calendar.

The calendar includes meeting dates, times and locations for neighborhood meetings, City Council Meetings, Planning and Zoning Commission Meetings and other city events. Please note that meetings date and times are subject to change without notice. This is a live calendar so changes are made immediately after they are reported. For a full schedule of all recognized organization meetings, visit the program's website concordnc.gov/neighborhoods.
---
Neighborhood News is published monthly and information from neighborhood associations and others are welcome.
Please share this newsletter by forwarding it to your neighbors - post an excerpt in your community's newsletter, post a copy on your community bulletin board, website, Facebook or Nextdoor page.