Nominate your Neighborhood Hero Today!
<![if !vml]><![endif]>
A community is best defined by its people. From neighborhood leaders to community groups to neighbors helping neighbors, there is no shortage of hometown heroes in Concord, NC.
Nominate your neighborhood hero today! & help us recognize individuals and organizations who are working to make a difference in our city.
Perhaps your neighborhood organization has a long term volunteer board member or an individual who has done something exceptional to help build up the community? Maybe your organization has partnered with a community group or a scout troop or a group from a local church? We know that there are people working every day to increase the quality of life in our neighborhoods and we want to acknowledge them and honor them. We need your help.
Neighborhood leaders should submit nominations by Monday November 18, 2019. Click here to make your nomination.

The neighborhood partnership awards are presented to individuals or groups who have made significant efforts to enhance the quality of life in Concord's neighborhoods over the past year. Individuals or groups recognized should have service work, leadership, and/or acts of kindness for your neighborhood that has impacted their neighbors and contributed to making their neighborhood and the city a great place to live, work, and play. Winners will also be featured in the City Circular Magazine, the neighborhood newsletter, and posted on the program website.
You can also register to attend the celebration event. The event is FREE but registration is required to make certain enough chairs and tables are set up for everyone desiring to attend so REGISTER TODAY!
---
SAVE THE DATES
<![if !supportLists]>·

<![endif]>Downtown Candy Crawl
– Oct 31
<![if !supportLists]>· <![endif]>One Stop Voting Begins – Oct 16
<![if !supportLists]>· <![endif]>Election Day – Tuesday, November 5
<![if !supportLists]>· <![endif]>Concord Annual Christmas Tree Lighting Event - Friday, November 22
<![if !supportLists]>· <![endif]>Concord Annual Christmas Parade - Saturday, November 23
---
Public invited to provide feedback for the Caldwell Park Master Plan.
<![if !vml]>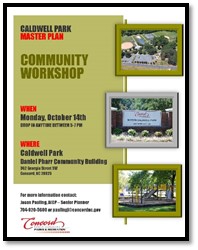 <![endif]>
The City of Concord is beginning the process to develop a Master Plan for Caldwell Park. The plan will spell out the overall vision for the park and outline improvements to the park.
Please help us develop the plan by providing input during the interactive Community Workshop which will be held at the Daniel Pharr Community Building located at 362 Georgia Ave, SW on Monday October 14, 2019. All residents and stakeholders are invited to participate in this public input opportunity. Attendees will learn more about the Master Planning process and participate in engaging and interactive activities designed to produce feedback on creative solutions to enhance Caldwell Park. Drop in anytime between 5:00 p.m. and 7:00 p.m.
All residents are encouraged to read more about the plan and provide feedback on the City's Engagement hub here as well - https://publicinput.com/5127
For more information, please contact Jason T. Pauling, AICP – Senior Planner at 704-920-5641 or paulingj@concordnc.gov
---
Movie in a Box Program - Update
Make your reservation today!
<![if !vml]>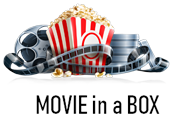 <![endif]>
Earlier this summer we announced a new engagement initiative called MOVIES IN A BOX which provides recognized neighborhoods the opportunity to loan equipment need to host an outdoor movie night event.
Through this program eligible neighborhoods will have the opportunity to borrow equipment on a first come first serve basis at no cost. Neighborhoods select their date, venue (neighborhood owned property or City park, block party) and provide their own movie. The equipment is provided at no cost. This initiative is designed to both encourage and support recognized neighborhoods' efforts to foster connectiveness of neighbors.
The Ramsgate community was the first neighborhood to utilize the equipment during their September 28 neighborhood cookout event. Organizers secured the required movie license from Criterion Pictures U.S.A. Securing the license was fairly simple.
If a representative from your neighborhood attended one of the "how to workshop", then your neighborhood is eligible to make a reservation.
Click here to make your reservation to borrow the equipment.
---
Domestic Violence Awareness Month
<![if !vml]>

<![endif]>
National Domestic Violence Awareness Month is an annual designation observed in October.
Don't stay silent. It's time to speak up all month long.
Domestic violence affects millions, both women and men, of every race, religion, culture and status. It's not just punches and black eyes -- it's yelling, humiliation, stalking, manipulation, coercion, threats and isolation. It's stealing a paycheck, keeping tabs online, non-stop texting, constant use the silent treatment, or calling someone stupid so often they believe it.
If you know someone who is – or might be – a victim of domestic violence, your support is important. Learn all you can about domestic violence. Get as much information as you can about the issue including local resources and community support. In Concord, CVAN (Cabarrus Victims Assistance Network) provides safety, shelter and support for battered women and their children in Cabarrus County, NC. They have a number of tools and resources to support victims of domestic violence.
---
October 2019 Neighborhood Meeting Calendar
Click the above header to view the neighborhood organization meeting calendar.

The calendar includes meeting dates, times and locations for neighborhood meetings, City Council Meetings, Planning and Zoning Commission Meetings and other city events. Please note that meetings date and times are subject to change without notice. This is a live calendar so changes are made immediately after they are reported. For a full schedule of all recognized organization meetings, visit the program's website concordnc.gov/neighborhoods.
---
Neighborhood News is published monthly and information from neighborhood associations and others are welcome.
Please share this newsletter by forwarding it to your neighbors - post an excerpt in your community's newsletter, post a copy on your community bulletin board, website, Facebook or Nextdoor page.