RSVP NOW!
Neighborhood Leadership Council Meeting
September 17 • 6:00 PM
Join us on Monday September 17 for the next Neighborhood Leadership Council Meeting. The meeting will be held at City Hall City Council Chambers from 6PM until 7:30 p.m. at City Hall Council Chambers located in downtown Concord (35 Cabarrus Ave West).
To RSVP for the meeting call (704) 920.5298 or send an email to jzarc@concordnc.gov.
<![if !vml]>

<![endif]>
Come out and network with neighborhood leaders. During the meeting we will discuss Nextdoor.com and the City's 5-year celebration plans. You will have a chance to ask questions, hear about best practice that you can take home and put to work right away.
These meetings offer neighborhood leaders the opportunity to share experiences, exchange information, and participate in focused leadership training. Meetings are held quarterly and are open to neighborhood leaders from each of the City's recognized neighborhood organizations.
---
September 11th Patriot Day Event – Community Celebration
<![if !vml]>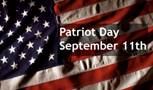 <![endif]>
The community is cordially invited to the City of Concord's Patriot Day Remembrance Ceremony at 8:45 a.m. on September 11, 2018 at Concord Fire Station 8 1485 Old Charlotte Rd. Concord, NC 28027. No RSVP required. During this community event, Concord leaders, Public Safety officials and members of the public will hold a public moment of silence in memory of the nearly 3,000 people who were killed in the September 11, 2001, terrorist attacks.
---
Fall Litter Sweep
Join Forces to collect litter from City Streets!
Statewide litter sweep runs Sept. 15-29
<![if !vml]>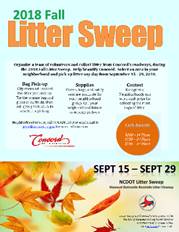 <![endif]>Every spring and fall, City staff members and recognized neighborhood groups participate in the Biannual Statewide Roadside Litter Sweep Cleanup. Groups work together to collect litter along the City's roadsides. The City provides bags and trash pickup, as well as an opportunity for neighborhoods to receive cash awards.
The 2018 Fall Litter Sweep pick up is scheduled for Saturday September 15 through Saturday September 29. We are excited about the Fall Litter Sweep and hope that all neighborhood associations and homeowners will participate. This activity is a great way to meet and socialize with your neighbors as well as make your community cleaner.
To participate, organize a team of volunteers then select an area in your neighborhood and pick up litter any day from September 15 – September 29. Cash prizes are awarded for groups that collecting the most bags of litter. Email jzarc@concordnc.gov or call 704.920.5298 to sign up.
Litter Sweep is a biannual event sponsored by the City of Concord and the North Carolina Department of Transportation. Visit ncdot.gov for more info.
---
Good Neighbor Tip:
Basketball Goals & The right-of-way.
<![if !vml]>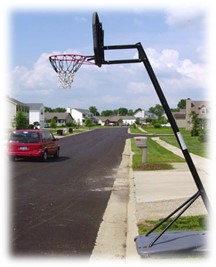 <![endif]>Did you know that City Code section 50-41 prohibits obstructions within the street right-of-way? This includes portable basketball goals. Many neighbors are surprised to hear this – especially if they have customarily placed portable basketball goals or other sports equipment at the curb or on the sidewalk in the past.
While we certainly understand that basketball goals provide youth with much needed outdoor recreation, they present a very serious hazard to those who play in the street if the goal is placed at the curb. Within your neighborhood, the public right-of-way includes the street, driveway apron, and sidewalk. This also includes cul-de-sacs.
WHERE CAN I PLACE MY PORTABLE BASKETBALL GOAL?
The goal should be placed on your property, like a driveway or patio. However, no portion of the goal should be in or touching the public
right of way. Also, those using the goal also should not be playing in the public right of way.
If you have questions about City Codes, contact Concord Police Code Enforcement at (704) 920-5150. To report any code violation, call the Customer Care Center at 704-920-5555.
---
National Preparedness Month
National Preparedness Month, recognized each September, provides an opportunity to remind us that we all must prepare ourselves and our families now and throughout the year. During this month Concord Emergency Management encourages citizens to take steps to get ready for a potential emergency!
<![if !vml]>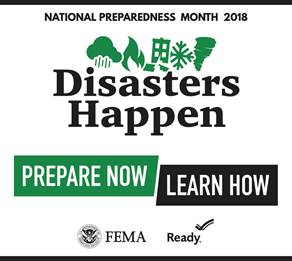 <![endif]>
Start by making and practicing your emergency plan. Everyone should have a plan and know what to do during an emergency. This means having an up-to-date contact list for those you may need to reach during a disaster and establishing alternate methods of communication in case traditional means. Individuals and families should ensure that they at least have the essentials — water, food and medications — to last 72 hours in the event of an emergency. Next, take steps to get basic home maintenance and lifesaving skills to protect your family and home. Get a basic knowledge of first aid and CPR. Know the ways to keep your home safe from cooking, heating & electrical fires. Readiness begins with you. Visit https://readync.org to learn ways to plan ahead for disasters.
---
Good Neighbor Day
Friday September 28
Not so long ago, the world felt like a smaller place, and folks knew their neighbor's names. Now, many of us aren't familiar with our neighbors, and only speak to them in passing. Why not use National Good Neighbor Day as an opportunity to lend a proverbial cup of sugar, and get to know the people who live nearby?
<![if !vml]>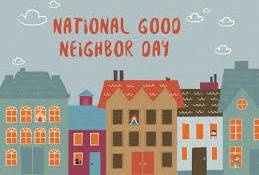 <![endif]>National Good Neighbor Day was the brainchild of Mrs. Becky Mattson. Becky and her husband Dick lived in Lakeside, Montana in the early '70s and realized the importance of knowing your neighbors. Together they worked with the local and state elected officials and got Presidents Nixon, Ford, and Carter to sign proclamations for National Good Neighbor Day. In 2003, the U.S. Senate finally passed a resolution that officially made September 28th National Good Neighbor Day.
Here are few a simple ways to say thanks to your neighbors:
<![if !supportLists]>· <![endif]>Roll in the empty trash cans from the curb
<![if !supportLists]>· <![endif]>Rake the first of the fall leaves, even if they are not technically on your property line
<![if !supportLists]>· <![endif]>Hand deliver some homemade cookies or invite someone over for coffee
<![if !supportLists]>· <![endif]>Organize a Neighborhood walking tour
<![if !supportLists]>· <![endif]>Wave, smile, and say hello– you'd be surprised how far a little gesture can go
Whatever you do, remember that the simple goal of National Good Neighbor Day is to bring neighbors together and to help enhance neighborhood connections. Being good neighbors is an important part of the social fiber that makes this country so great.
Please email me and let me know what your neighborhood organization is doing to encourage your members to celebrate National Good Neighbor Day.
---
Grand opening of the David W. Phillips Activity Center
On Tuesday, September 11 from 3pm – 7pm City leaders will celebrate the opening of the David W. Phillips Activity Center. The event is open to the public and will include tours of the facility.
<![if !vml]>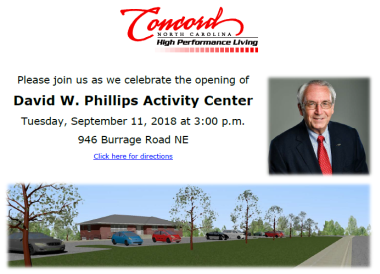 <![endif]>
The new activity center is located at 946 Burrage Road NE in the Beverly Hills Neighborhood. The center will host a variety of recreational programing including arts, fitness, cooking classes, and youth activities. This is a great addition to the City's Parks & Recreation system. For full details on the programs offered at the new activity center, review pages 14-15 in Fall 2018 Leisure Times Magazine. The grand opening will include tours of the facility.
---
September 2018 Neighborhood Meeting Calendar
Click the above header to view the neighborhood organization meeting calendar.

The calendar includes meeting dates, times and locations for neighborhood meetings, City Council Meetings, Planning and Zoning Commission Meetings and other city events. Please note that meetings date and times are subject to change without notice. This is a live calendar so changes are made immediately after they are reported. For a full schedule of all recognized organization meetings, visit the program's website concordnc.gov/neighborhoods.
---
Neighborhood News is published monthly and information from neighborhood associations and others are welcome.
Please share this newsletter by forwarding it to your neighbors - post an excerpt in your community's newsletter, post a copy on your community bulletin board, website, Facebook or Nextdoor page.